I can't recommend this site enough the BEST do it yourself arcade site on the internet be sure to frequently visit Saint's message board if you are building your own cabinet or standalone control panel it is an invaluable resource.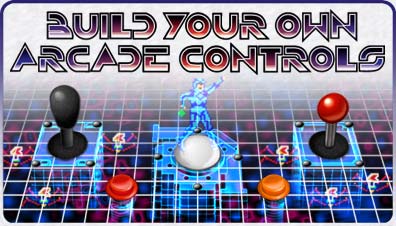 Build Your Own Arcade Controls FAQ - Step up to real gaming excitement!
ROMS and General MAME Info
Arcade@Home(tm) - MAME, Retrocade - Video Game Conversion
MAME
M.A.M.E. Official Web Site
M.A.M.E. FAQ
Roger's Classic Arcade Tips & Tricks Great site! for tips and tricks
Other Projects
PC2JAMMA PROJECT Home of Arcade OS Frontend
Mr SaLTy's Arcade
LuSiD's Arcade Flashback
Welcome to Snipercade.com
Arcade Paradise
Dragons Lair 2 PC Conversion Project
Mamearcade
Brian's Arcade Joystick
MAMEzilla
Dhansen's Arcade Stupidity
Ms. Stacie
Arcade Euphoria
Encoders
Andy Warne's Awsome IPAC and OptiPAC+ Encoders
Hagstrom Electronics - KE72 and ME4
MK40 and 64 Keyboard encoders
Build it yourself
ButtonBox KeyBoard Encoder
TwistyGrip Spinners and Arcade Yolks
Nathan's Cheep Spinner
Parts
Happ Controls
Imperial (makes a Trackball with PS/2 Connection)
Wico for those who want leaf switch joysticks
Suzo International
American Science & Surplus.
The Real Bob Roberts
How to make the perfect spinner
Pin It Yourself Pinball Machine Project
Fultra Spinner Offline????
Auctions in your Area?
Check this out if you are in the Philadelphia Area Classic Gaming Expo looks Cool :)
General Arcade Info
The Basement Arcade
CAGA - Full size High Quality Marquees and other original Arcade Art
MAME Cabinet Web Ring
Other Links
Highly Recommended Internet Radio
Click HERE for access to over 100,000 uncensored usenet newsgroups! This is an awsome service you can download up to 1 gigabyte a day of just about anything you would want for US $6 per month. MP3's Movies binaries, all anonymous!!!!