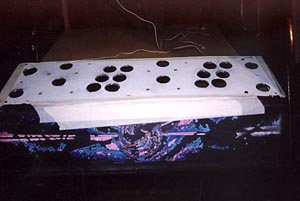 Control Panel 1.0
Originally we wanted to have two joysticks each with six buttons and a trackball and spinner. Turns out this control panel is way to small for this so we settled for two joysticks with six buttons each. We are planning another panel if I can find someone that could make one or a similar Atari panel I will implement swappable panels.
As I said on the home page this panel was pretty much unusable so I had to find a way to use the panel. So what I came up with was to mount a piece of sheet metal on the panel and use this as the base. I mounted it with epoxy and some sheet metal screws (the tape you se was only temporary.) It ended up working really well. Here is a picture of it after drilling.
Here is the control panel in the cabinet with the lights and speakers.
As you can see the sheet metal allows for a customizable panel if you want to use an original metal panel, which definitely has it's advantages over a wooden panel, at least for mounting joysticks. Then I removed the tape and filed the edges of the sheet metal so they were not sharp. Next I mounted the plexiglass and drilled the holes in that. Once the plexiglass was drilled I removed it and started to prepare for painting. I then used sandpaper and steel wool to prepare the whole thing for painting. Mad then painted the panel black.
We got all of our buttons and joysticks from Happ Controls. The joysticks are Happ's Super 4-8 way and the buttons are horizontal micro-switch buttons all of which work very well. There is an actuator on the bottom of the joystick which allows you to switch from 4 to 8 way movement. I did not find any info on this on the net or on the documentation supplied with the joysticks. Later after experimentation with Donkey Kong I found that I originally had it in 8 way mode. When I flipped the actuator into 4 way mode it worked great for both 4 and 8 way games, we have never had a problem since. So I definitely recommend using four way mode which seems to use the smaller part of the actuator at the bottom.